Tribute to BILL HARDAWAY – a true gentleman
On 8th June 1935 Bill came into the world in Lewisham, moving to Worth Matravers at the age of 13 where he developed his love of the countryside and dogs. He went to the County Show when he was 16 where there was a Farriers stand and he enquired about their trade. He clearly impressed the Farrier as he offered Bill and apprenticeship there and then, which he completed in Porlock, Somerset. Somerset was a place that Bill often returned to stay in more recent years at The Staghunters Inn, Brendon. Bill was then called up for National Service and was in the Life Guards Mounted Squadron at Knightsbridge where he served for 3 years, latterly as a Farrier. After his discharge from the Life Guards Bill went to work in his father's business and acquired his first German Shepherd, Branda, in the late 1950's. She was entered in the then Junior Stake at Chelmsford in 1959.
BRANDA
Whilst attending an Obedience Show he met Sonia Sharp and they were married in 1960. Sonia's father, Captain Ron Sharp was deeply involved in Working Trials and so introduced Bill to this discipline. Bill's first Working Trials dog was a GSD Tackleway Gavotte (Gay), obtaining U.D.ex., also participating in Breed and Obedience Shows, although his first GSD to gain T.D.ex. was Burnaway Quill of Handley (Quanto). Born on 25th January 1968 this black and tan bitch, bred by Mrs. D. Foreman, her breeding was Novem Emperor ex Ocarina of Hankely. She appears in the KC Stud book in 1972 having gained T.D.ex. and 3rd place at Portsmouth & D.D.T.C in August at Bere Forest and Hipley, Hampshire. Judges were Sgt. Ogley and P.C. P. Thrasher.
The 2nd March 1974 saw the birth of Bill's first Working Trial Champion Burnaway Ike C.D.ex. – T.D.ex. Home bred, he was sired by Ulmer Felswood ex W.T.CH. Burnaway Freia. (Sonia handled Burnaway Freia to her title.)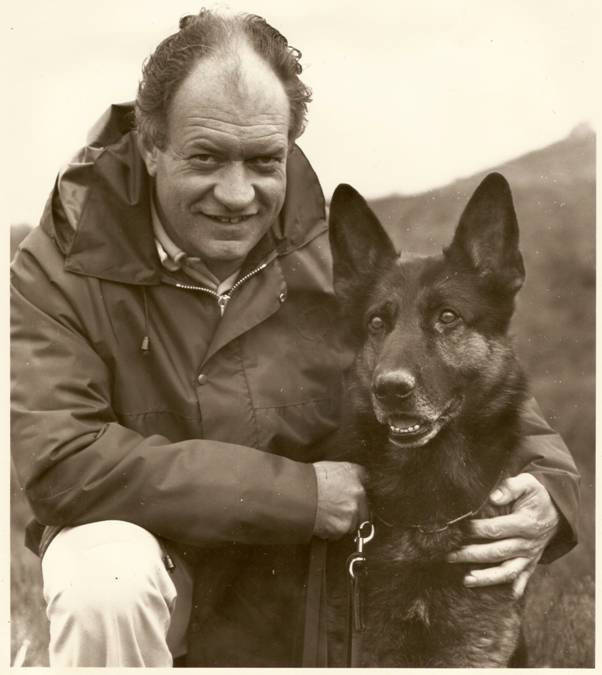 W.T.CH. BURNAWAY IKE C.Dex. – T.D.ex. AND BILL
Ike's first C.C. was at Rochester, Kent at the A.S.P.A.D.S. Championship Trial in October 1977, judged by Mrs. E. Garside, Ike was the only qualifier. A further 3 C.C.'s followed judged by Messrs. B. Plant, W. Champion and Mrs. Garside again.
It may be of interest to note that at the S.A.T.S. Trial on the Ashdown Forest in September 1978, Sonia and Burnaway Freia came 2nd in T.D. and Bill with Ike came 4th!
Bill then went on to make up Burnaway Quinta (Fanto vom Bayrischenwald ex W.T.Ch. Burnaway Maricer who Sonia handled to her title) in 1986 under C.C. Guard, 1987 under Graham Halford and a third ticket came under Susan Wood in 1989 at Hampshire W.T.S. He was also working Burnaway Rupert to gain C.D.ex. – T.D.ex. gaining their T.D.ex.'s in 1989. Quite a busy time!
A departure from German Shepherds came on 6th November 1990 when Sonia bred a litter of W.S.D.'s, mating her bitch Kiri of Burnaway C.D.ex. – T.D.ex. to Rosie Jones W.T.CH. Spinbrook Legionaire C.D.ex. – T.D.ex. P.D.ex. Bill kept a dog from the litter, Burnaway Wyp achieving C.D.ex. – T.D.ex.

BILL AND BURNAWAY WYP IN YORKSHIRE
On the home front, Bill and the family moved to Etchingham in 1964 where Bill carried on his trade as a Farrier, but then decided to set up his own business WSH Wireworks which continues today run by his three children, Bill, Karen and Roger. In 1994 Sonia sadly passed away from breast cancer. After a couple of years on his own, Bill then married Heather Rickett, also another German Shepherd enthusiast in both Obedience and Breed.
Bill joined SATS as a Committee Member in the late 1960's not only running Trials (he managed the Kennel Club Championships on the Ashdown Forest in 1987 during the hurricane!) but also in various roles of Secretary, Treasurer, Vice Chairman, Chairman and finally President until he passed away. Bill also attended a local Dog Club for many years, Hastings & St. Leonards D.T.C. of which he became President. He became increasingly involved with The Kennel Club first serving on the Working Trials Council and subsequently becoming Chairman. Bill then went onto serve on the Working Trials, Obedience & Agility Sub Committee, where again he became Chairman. In 1990 he was appointed to the Crufts Committee which led him to the role of Chief Obedience Steward for several years, being elected to the General Committee in 1991. In 1993 Bill served as Chairman of the K.C.J.O. and was elected to the Finance and General Purpose Committee in 1995. In the 1990's on behalf of the General Committee, Bill founded the Kennel Club Good Citizen scheme becoming Chairman from 1992 until his retirement from the Kennel Club, of which he was the most influential champion within the Kennel Club. In February 2013 at the G.C.D.S. Awards Ceremony, he received a Special Award for Outstanding Achievement on the occasion of the Scheme's 20th birthday. He was also involved in the setting up of the K.C.A.I., acting as Chairman on that scheme for several years. Bill retired from the General Committee in 2010 at the age of 75, having served for eight years as Vice Chairman of The Kennel Club, under Ronnie Irving. He was then appointed a Vice President of The Kennel Club.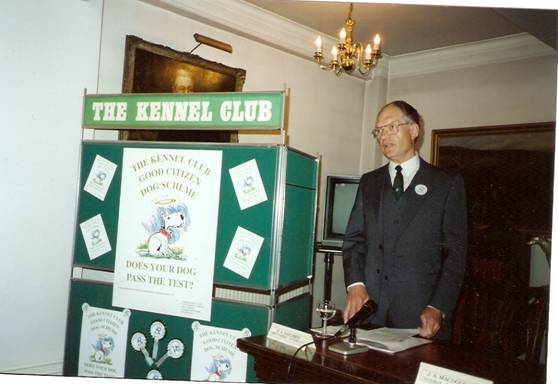 Competing with his own dogs played second place to the Kennel Club, but Bill did train a G.S.D. bitch Gemma Fosterbooth of Burnaway to gain C.D.ex.U.D.ex. who sadly suffered from badly arthritis, having to be put to sleep at the age of seven. Following his retirement from The Kennel Club Bill purchased a G.S.D. dog Vikkas Cruise of Burnaway (Brendon). Together they achieved C.D.ex. and gained Bill's last Working Trial qualification, U.D. C.O.M., in April 2013 at Banbury Trial. They were also placed 4th and awarded the Best Track Trophy, of which Bill was very proud.

BILL AND GEMMA TRAINING AT ETCHINGHAM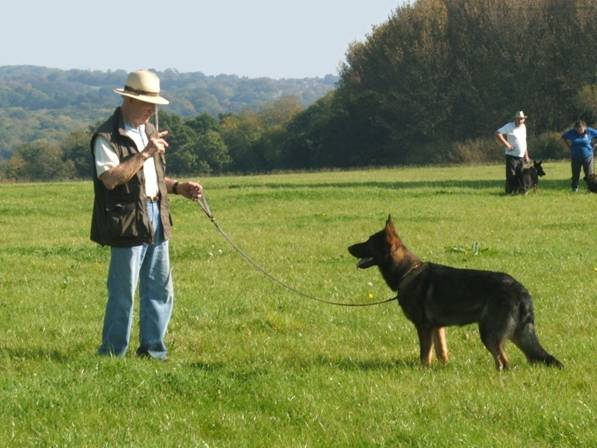 BILL AND BRENDON AT HYE HOUSE FARM, CROWBOROUGH – SATS TRAINING VENUE
On Sunday 5th June 2013, despite suffering from the effects of Chemotherapy, Bill attended his last S.A.T.S. training morning. Bill was able to work Brendon at the C & A demonstrating one of their spectacular 250 yard Sendaways. That evening Bill was taken to hospital from where he was transferred to St. Michaels Hospice in St. Leonards, East Sussex. Many friends visited him in the last few weeks and he was overwhelmed by the number of cards and letters sent. Sadly Bill then left us in the early morning of 18th July 2013. The Crematorium at Hastings on 30th July was over flowing with people just wanting to pay their last respects to a true Gentleman in every sense of the word.
Information kindly supplied by Ciara Farrell, Library and Collections Manager, The Kennel Club.
Photographs supplied by Heather Hardaway and Frances Webb